One of the features in ISA Server 2006 is the ability to block traffic based on URL or Domain name. This means that traffic can be blocked for a particular website from ISA Server without disrupting the general Internet access rule.
I've compiled some Domain Name Sets and URL Sets from the Internet and zipped them for easy availability for ISA administrators. Download the ZIP file and extract it. Under Network Objects in the Toolbox tab, right click URL Sets and click Import. Choose a single XML file from the unzipped folder of URLs. Once you have imported all XMLs, follow the same procedure for Domain Name Sets.
The next step is to create a rule which denies traffic to the websites which are listed in the XML files that we imported. Start by creating a new rule. I've named my rule as "Block Custom Sites".
In the Access Rule, choose "Deny".
Under protocols, choose HTTP and HTTPS.
Under Sources, choose Internal and VPN Clients.
Under Destinations, choose the XML lists that we imported. You can add multiple XML files.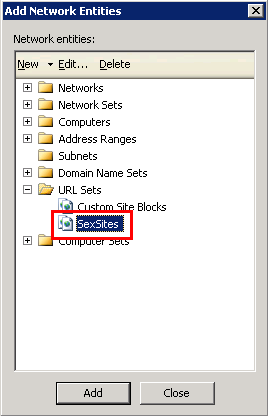 Remember to shift the rule that we created to the top of all rules and we are done.